Whether your staircase is straight or curved, Stair Lifts Atlanta, Inc. provides and installs the perfect curved or straight stair lift to achieve safe multi-level access for your metro-Atlanta or north Georgia home.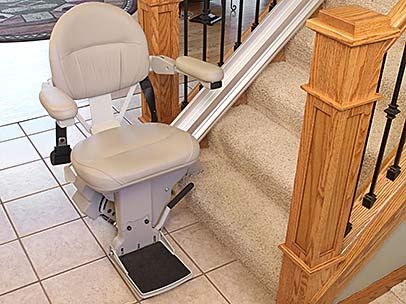 Lifts such as the Bruno Elite Straight Rail Stair Lift with a weight capacity of 400 lbs and an armrest rocker switch for easy operation, comes standard with two wireless remotes for remote control and an offset swivel seat for easy boarding and exiting at the top landing.
Offering a sleek appearance, the Bruno Elite Straight Rail Stair Lift has charge strips along the rail power unit for continuous charge wherever the lift stops, and manual flip-up arms, seat and footrest for extra space on steps.
Your safety is of highest importance; therefore this lift includes safety sensors to detect obstructions along the path, and a sturdy seat belt for rider security. This lift is battery operated for extended use during a power outage.
Made in the USA the has a luxury appearance and an exceptionally smooth and quiet ride. It is designed to maximize free space on steps, with a vertical rail that has a covered gear rack for clean appearance.
Also available are power or manual folding rails for for stair lifts in narrow hallways or when a doorway is situated immediately at the bottom of the stairs. The folding rails are available as manually operated or automatically operated with a push button.
Do you need other home accessibility options such as roll-in showers, walk-in tubs or roll-under sinks? Contact us today for more information at 770.880.3405, or submit your information in the contact form below, and we will call you.
[contact-form-7 404 "Not Found"]